Look Magazine Subscription
Subscribe now and save up to 51%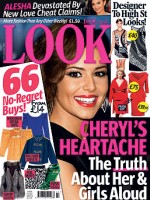 From £15.49 to £122.49
From 3 stores
Compare
Issues
Save
Price
Subscribe
12
44%
£16.99
Subscribe Now
51
44%
£68.49
102
50%
£122.49
Subscribe now and get a £5 Amazon.co.uk Gift Card!
13
43%
£16.49
Subscribe Now
51
41%
£71.99
102
51%
£119.99
12
49%
£15.49
Subscribe Now
51
42%
£70.99
102
51%
£118.99
Join our newsletter for exclusive deals, voucher codes & more!
Look Magazine
Launched in early 2007, Look Magazine is now Britain's best selling fashion weekly. It is fast-paced, glamorous and glossy and a must-read for young women. Look Magazine blends a unique mix of up-to-the-minute celebrity and fashion news, high street shopping advice, thought-provoking styles and real life stories.
If you want to stay on top of the trends, Look is your weekly high street fashion bible. Subscribe now and get it delivered to your door for FREE every week. Plus save a huge amount off the normal cover prize and never miss another issue. Order your Look Magazine Subscription today!
In Recent Issues of Look Magazine
Pregnant Beyonce horrified over new love child scandal – inside her heart to heart with Jay-Z… Jen & Justin's £5.4 million home – see the first pics!… X-Factor exclusive – Misha B tells all… Miracle buys for under £25 – revamp your wardrobe for less… Girls Aloud's Sarah – my booze & depression hell won't beat me. Secret intervention by her ex, Tom. Stunned Girls Aloud vow to help… Kate's secret agony – her heartfelt confession to Will… X-Factor shock: Kelly – the tragic secret behind her body obsession… Cheryl's hotel hook-up with new man… Your new fashion season starts here. For more great articles, gossip and news every week, subscribe to Look Magazine now!