net Magazine Subscription
Subscribe now and save up to 29%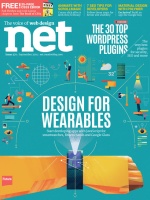 From £13.65 to £56.00
From 3 stores
net Magazine
The world's best selling web design and development magazine, net (formerly .net) offers a complete guide to the internet and creating for the internet. Whether you are a creative, developer, marketeer, designer or media executive, net Magazine offers something to get your teeth into.
net Magazine features more than 30 pages of tutorials in every issue, covering topics from Flash, graphics and marketing to HTML, CSS, PHP and JavaScript. The magazine will help you learn to become better at what you do, and teach you new tricks of the trade, always keeping up to date with current developments in the web industry.
With monthly web design showcases, cutting edge articles, opinion and reviews, and a free CD packed full of goodies in each issue, net magazine is the perfect read for anyone interested in creating for and working with the internet.
Order your net Magazine Subscription now and you will save a huge amount off the cover price and get free delivery to your door so you'll never miss an issue.
In Recent Issues of net Magazine
How to boost brands with social media – whether promoting a person, product or company, find out how to make the most of social networking… Web design for mobile – net magazine explores the various money making opportunities the mobile web offers to designers and developers… Enrich your content – discover how to improve your site's visibility and enhance user experience… The hacker's guide to website security – what can you do to protect yourself?… Style an HTML data table… using clean, semantic markup… Future proof your website – find out from industry talent how to keep your site looking and feeling fresh… Experiment with CSS3… And much more in every issue of net Magazine. Subscribe now!
Who Reads net Magazine?
Both professionals and amateurs in the digital creative sector. From web designers and developers, to bloggers and marketeers. A significant proportion of readers are full-time web developers.